The industry's
most flexible
real
–
time 3D graphics and virtual studio engine
Brainstorm eStudio is a powerful and flexible tool that provides solutions for any kind of real-time graphics. The eStudio is unique in the market due to its sophistication, open architecture and versatility, enabling both design and real-time playout of virtual studios and 3D graphics as well as the easy creation of customized applications. It provides excellent results for applications such as News & Sports, channel branding, weather, entertainment, charts and graphics, interactive corporate presentations or film pre-visualization.
Brainstorm has been pushing the boundaries of virtual set production and development for over 25 years. Brainstorm pioneered the application of camera tracking to 3D real-time virtual set, and eStudio interfaces with practically all current tracking systems, making integration with any production hardware an out-of-the-box feature.
Advanced rendering and modelling
The advanced modelling toolset of eStudio includes built-in geometries and primitives, imported models, hyerarchy of objects, material and textures, built-in text effects and particle systems and much more. eStudio also allows texturizing objects using pictures and movies.
eStudio features advanced rendering options with fully OpenGL power with shaders, bumpmaps, shadows and impostors. Multi-texturing and multi-pass per material and customized filter shaders and 2D effects (distortion, bloom…) are also available. eStudio shaders support up to 32 inputs.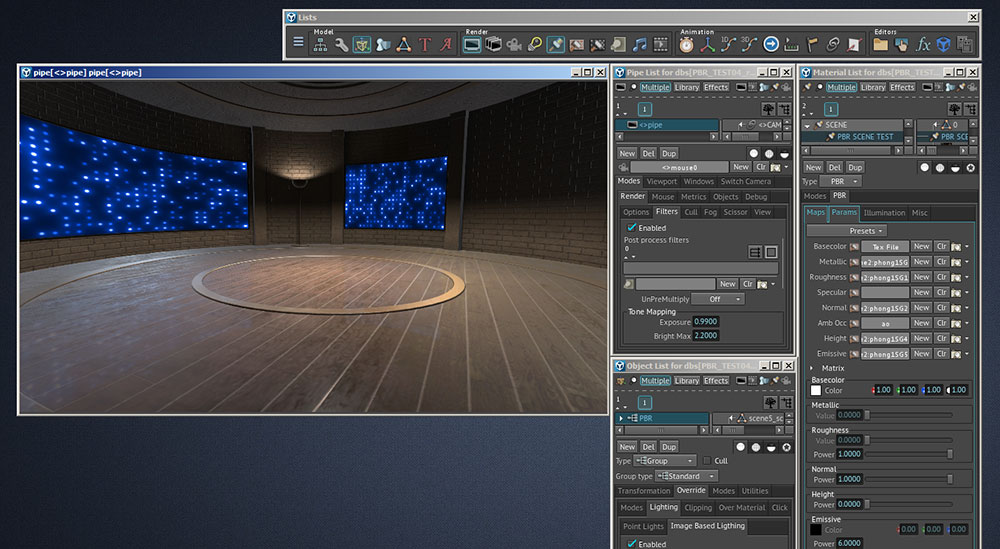 Support for PBR shaders
Supports PBR (Physically Based Rendering) shaders as materials, which can also be imported from external shader editing applications like Substance.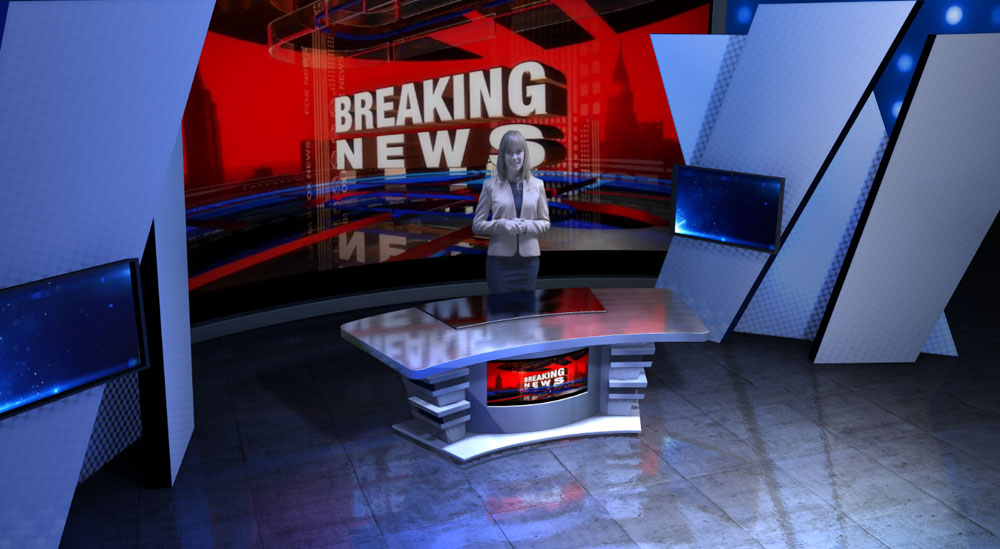 Reflector objects
Real Render Object Reflection over flat surfaces via additional internal rendering from a reflected camera position.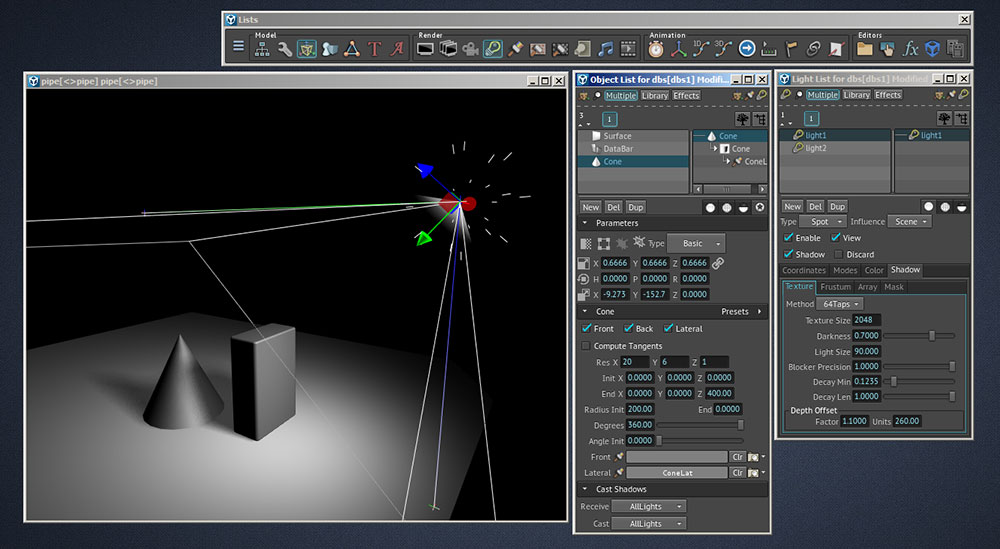 Soft shadows algorithm
eStudio renders real-time soft shadows from 3D lights parameters using a dedicated algorithm.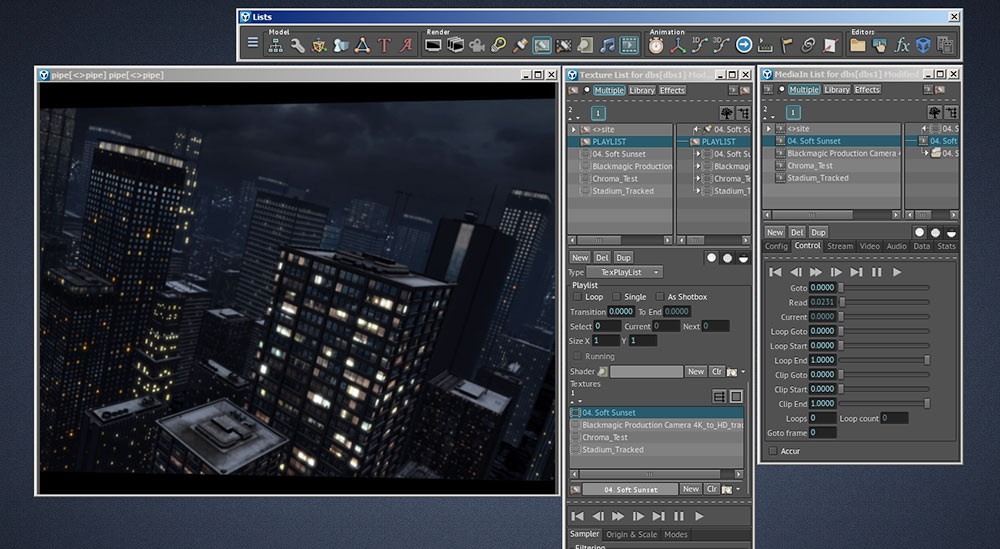 Playlist textures
eStudio can run a playlist of pictures and clips with multiple start, end and looping points.
Selective defocus algorithm
Using the real camera's parameters, eStudio applies selective defocus on the virtual scene.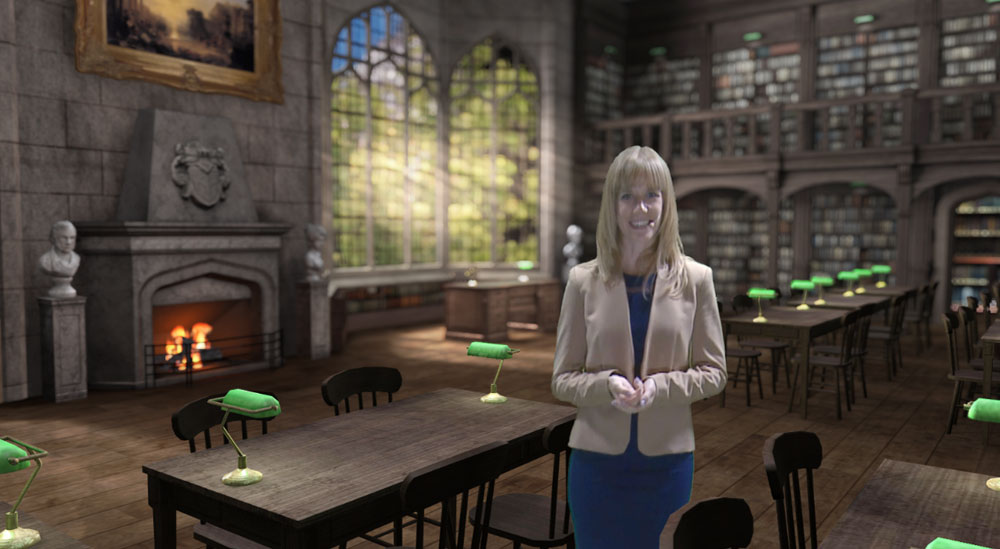 Real-time ray tracing
eStudio takes full advantage of the latest hardware developments found in NVIDIA RTX GPU technology. By using NVIDIA Quadro RTX GPUs, eStudio can deliver real-time ray tracing, which provides a much more accurate rendering, especially with complex light conditions.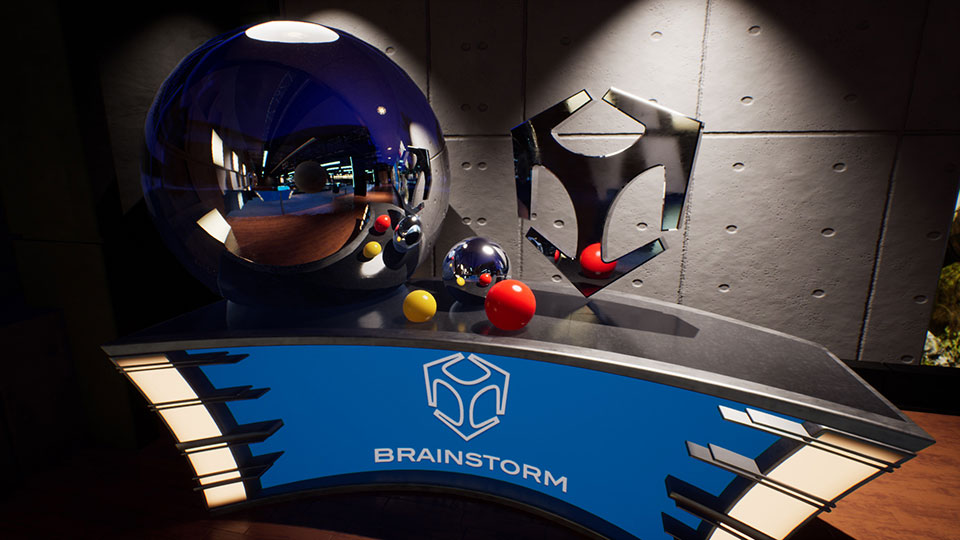 PBR and HDR
eStudio fully supports PBR shaders as materials, which can also be imported from external shader editing software like Substance and other material editors.
HDR allows for rendering wide-gamma pictures. The eStudio can render floating 16 bit per channel/component, supporting for P2020 gamma correction output. This allows for post-rendering exposure control and extended-range filtering.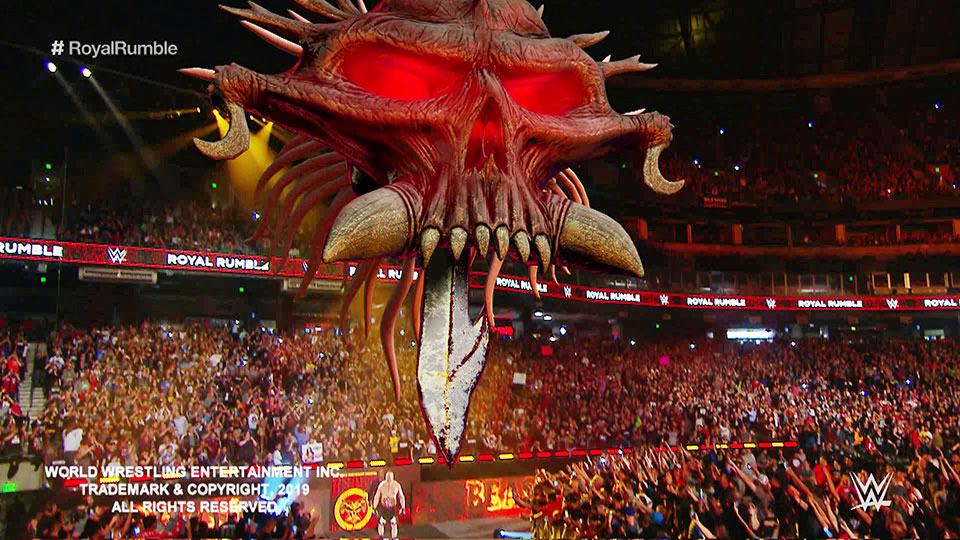 Unreal Engine workflow
eStudio fully supports Unreal Engine, taking advantage of the benefits of what such game engine provides in terms of rendering quality. The added value of this configuration is the multitude of benefits of including more than 25 years of Brainstorm's experience in broadcast and film graphics, virtual set and augmented reality production, including data management, playout workflows, virtual camera detach, multiple simultaneous renders and much more.
With eStudio, UE projects can indistinctively be background or foreground, and with 100%-pixel accuracy guaranteed. This opens up the door to easily create AR with Unreal Engine, in addition to virtual set production.
Beyond game engines: Combined Render Engine
What Brainstorm offers goes far beyond what a game engine can do by itself. Broadcast graphics workflows have specific requirements, like database connections, statistics, tickers, social media or lower-thirds, a variety of hardware and software elements that are alien to the game engine framework but essential for broadcast operation.
Brainstorm's approach to external render engine support is unique in the industry, as it provides alternatives for using different render engines so users can achieve anything they might require. Brainstorm's initial approach to using game render engines combined the eStudio render engine with the Unreal Engine in a single machine, that is the Combined Render Engine.
In addition to the new developments and the improved UE compatibility and UE-native workflows, the Combined Render Engine approach allows users to select the alternative that fits best with their requirements or workflows.
TrackFree™ technology allows for using tracked, fixed cameras or any combination of them to shoot the talent on the set, indistinctly using internal or external chroma keyers.
2D and 3D object creation and management
From stills, lower-thirds or OTS to full screen graphics and animations, virtually any kind of 2D or 3D graphic can be accomplished with eStudio. It also supports StormLogic and SmartTemplates which can automatically look up data and redraw graphics accordingly, allowing for manual or automatic data input from other applications, databases, spreadsheets or real-time feeds.
eStudio imports and manipulates graphic files and 3D models from a variety of 2D and 3D software packages in a variety of 3D formats such as .fbx, .dae, .obj and.3ds, to name a few. Also, virtually any kind of 2D image and video format is accepted.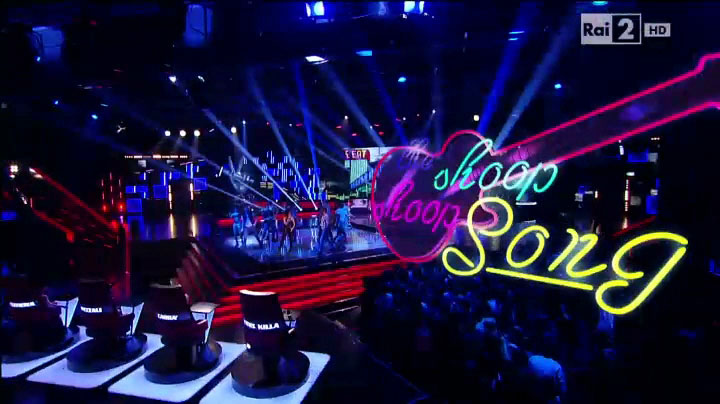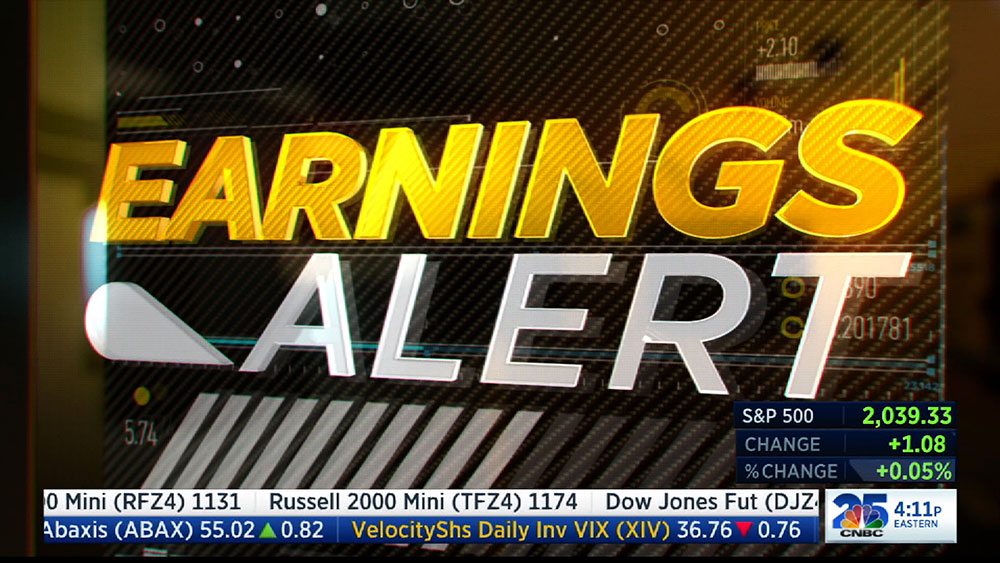 Exclusive typographic features
eStudio has taken advantage of the development of character generation in Aston, which lead to the implementation of many text and font features usually available only in high end character generators.
New Text Editor allows to apply effects such as color, font, size and style effects (bold, italic, underline) by simple selection.
eStudio provides full support for complex languages and alphabets (Thay, Devanagari, Vertical Japanese, etc.)
Advanced Font decoration:
Three-border configuration

Each layer can have different

colors

and textures

Emboss effects for layers and borders

Configurable shadow layers for

color

, size, blur, transparency, etc.

Font Families for Normal, Bold, Italic and Bold-Italic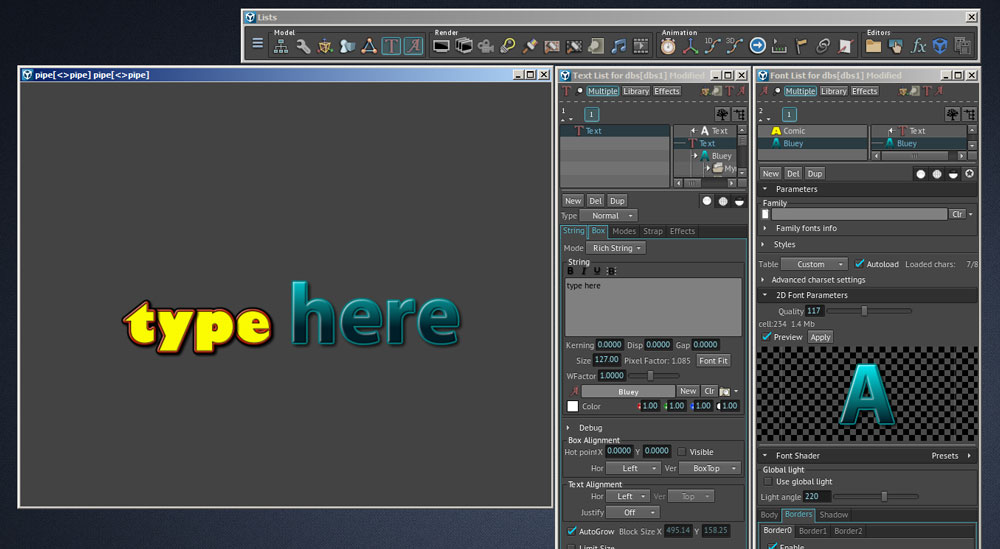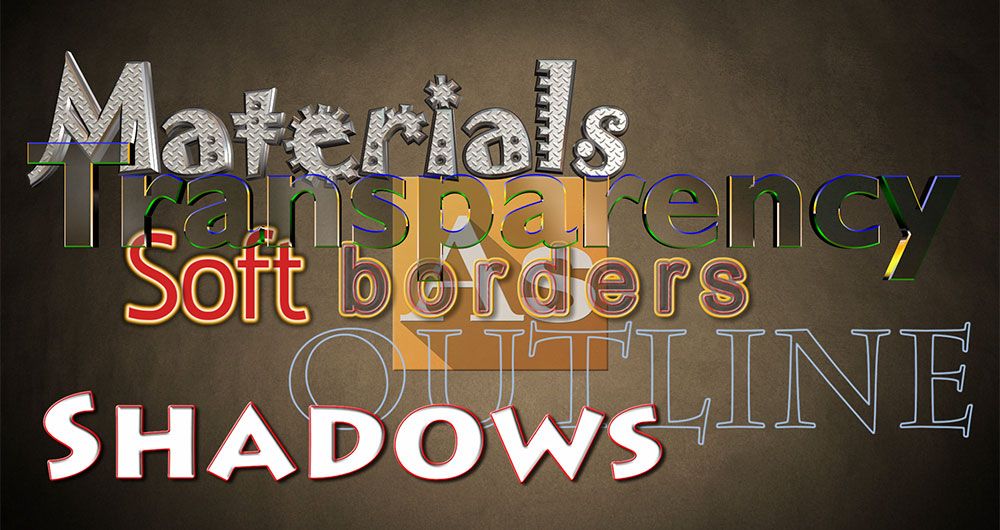 Open hardware interfaces
Brainstorm works closely with many hardware and software manufacturesrs such as NVIDIA, AJA, Bluefish, Epic Games, Blackmagic, FOR-A, Panasonic and many other. The eStudio also interfaces with most camera tracking systems.
See the partner list
Hardware Recommendations
This is an orientative guide of the hardware supported by eStudio 14. However, we encourage you to contact your sales representative in order to ensure the following configurations fit your needs.